Here's my attempt to kill two birds with one stone. Or, at the very least, injure both of them slightly.
The first bird I plan to harm today is supplements and products. When it comes anything diet and fitness related, people seem to be obsessed with buying stuff and learning about stuff they can buy. It's strange, especially when you understand that it's a proper diet and/or workout that will allow people to accomplish whatever their goal is (weight loss, increased muscle, improved overall health, etc.), not something that you can buy and "use." With that being said, there are some useful supplements and products in the world, and this post will act as my official rundown of the supplements and products I use and recommend.
Bird #2 is trust. See, I read a lot of sites/blogs about all sorts of stuff. From time to time, a specific product or brand is recommended. I don't know about you, but when I see this, I always wonder if the person doing the recommending honestly uses this product/brand like they claim, or, if they are just recommending this product/brand because it will in some way make them some money. Now, I don't care if it makes them some money. That's actually perfectly fine by me. A site needs to support itself somehow. However, it's when the money is the sole reason for the recommendation (and NOT that they actually use it) that I start to have a problem. What I'm saying is, if I were you, I'd probably be wondering if I was being completely truthful whenever I claimed to "use and recommend" a specific product or supplement.
So, I figured the best way to do something very bad to these poor birds is with a little show and tell.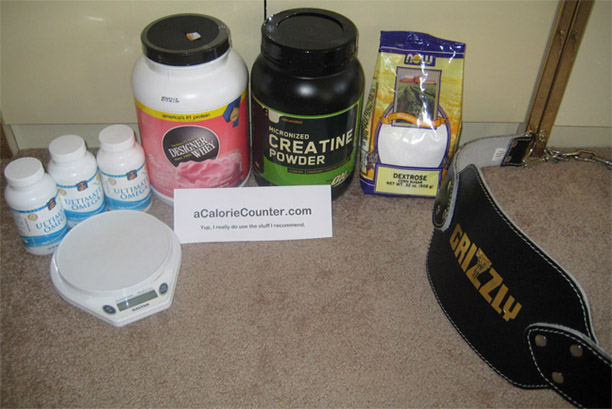 This is a picture of my living room floor along with pretty much even single supplement or product I've ever claimed to "use and recommend" on this site, or will ever claim to "use and recommend."
With the exception of a couple of items (which I'll explain later), a gym membership, and a bunch of quality food… this is it. This is a picture of the only diet and fitness related stuff I've ever spent a cent on or will ever recommend you spend a cent on. I'll even go as far as to say that, aside from the stuff mentioned in this post, 99% of all other diet and fitness related products/supplements are complete and utter junk.
With the showing now out of the way, here comes the telling.
Digital Food Scale
On the bottom left, that little roundish white thing is my digital food scale.
Specific Brand: Salter 2001 5-Pound Microtronic Kitchen Scale
What Does It Do: Uh, you push the "on" button, put your food on it, and it will tell you how much it weighs in either grams or ounces (this scale does both). The point of figuring out your food's weight is so you can figure out the exact nutrition facts (calories, protein, carbs, fat, etc.) of your exact serving of a food. Doing so will allow you to know exactly what you are eating, and knowing exactly what you are eating is not only the key to weight loss, weight gain and weight maintenance, but it's also the key to ensuring that you have an overall healthy diet that doesn't lack the things your body needs, and doesn't contain too much of the things it doesn't.
Why This Specific Brand: It was the best reviewed/best selling digital food scale around when I was looking to buy a new one (September 2006), and as of right now (April 2008), it still is. I've had no problems with it at all and I only had to change the battery once so far. It's small and pretty cheap… currently $29.99 on Amazon.com.
Who I Think Should Use It: Anyone who cares about their diet, which should be pretty much everyone. I've said this before and I'll say it again, a food scale makes the life of a person who gives a crap about what they are putting into their body so much easier. Since a Calorie Counter allows you to search for a food and then enter in your own specific serving size (in grams or ounces), it kind of seems silly not to have one.
Fish Oil
On the top left, those 3 little blue and white bottles… that's fish oil.
Specific Brand: Nordic Naturals Ultimate Omega
What Does It Do: At this point the question isn't what DOES fish oil do, it's what DOESN'T fish oil do (I said that in my best Ferris Bueller voice, by the way). Writing a full article about it is definitely on my to-do list, but for now I'll keep it short and simple. Fish oil (more specifically the omega-3 fatty acids EPA and DHA that it contains) improves your body's ability to do damn near everything. Yes, seriously. And no, this isn't some wacky herbal remedy nonsense… this is scientifically researched and proven stuff. Fish oil is one of the few things nearly every doctor, nutritionist, strength coach, and diet/fitness expert will agree on. From the American Heart Association on down… you're honestly not going to find any remotely knowledgeable source that won't recommend fish oil.
Why This Specific Brand: Two reasons. First, when it comes to the stuff I put into my body, I'm a big fan of quality. And, this brand is one of (if not the most) high quality fish oil supplement around. I base that statement on the 2 separate consumer reports I saw which tested a variety of fish oil supplements for purity and other stuff (accurate amounts of EPA and DHA) and it ranked as highly as possible on both. Also, the few times I've seen an expert recommend a specific brand, Nordic Naturals was that brand. It's kind of regarded as one of the top fish oil brands there is (along with Carlson's, which is another brand I like, but don't actually use). The second reason… it contains a higher than average amount of EPA and DHA per capsule. What this means is that while many brands will require you to take anywhere from 6-10 capsules per day to reach a good amount of EPA and DHA, Nordic Naturals Ultimate Omega would require half as many to reach the same amounts of EPA and DHA.
Who I Think Should Use It: Everyone. Yup, everyone. It doesn't matter if you are trying to lose weight, build muscle, or just be healthy in general. In fact, it doesn't matter if you pay any attention to your diet or have ever worked out in your life. If you are human, fish oil is for you. While fish oil is completely safe (it's just like eating fish), you should obviously double check with your doctor if you have any health issues or are pregnant. In the case of pregnancy, chances are your doctor has already recommended that you take a fish oil supplement (numerous studies show it is beneficial to the brain development of the baby). And, in the case of health issues, chances are there is a study out there proving that fish oil will in some way help it, no matter what it is. You may think I'm exaggerating, which is fine. Whenever I get around to writing that full article on fish oil, you'll see I'm not. (NEW: I finally wrote it: Fish Oil Supplements)
Whey Protein Powder
To the right of the fish oil, in the white and pink container… that's whey protein powder.
Specific Brand: Designer Whey Protein Powder
What Does It Do: Technically, it doesn't really "do" anything. It's just protein, so it's kind of like claiming chicken "does" something. Obviously a sufficient protein intake is pretty important, and a protein supplement such as this one is a very simple and convenient (and low calorie) source of protein. And, while this is part of the reason I use a whey protein powder, there's another reason. That reason is that whey is the "fast" protein. Meaning, out of all of the forms protein, whey is digested and absorbed by the body the quickest. This makes whey protein powder the ideal and most often expert-recommended source of protein for the meal after your workout.
Why This Specific Brand: When it comes to protein powder, there's really only 3 things to consider. Taste, mixability, and price. You can definitely find whey protein powders that cost less than Designer, however, you won't find many that taste as good and mix as easily. I personally don't mind spending a little bit more to avoid having to force myself to drink something that tastes like… well… crap. I've tried a couple of flavors of Designer's whey powder, and they all taste fine. I'm mostly a fan of the strawberry flavor (as shown on my living room floor). As far as mixing goes, this brand takes literally 10 seconds to mix with nothing more than a spoon, and maybe 5 seconds with the use of a shaker bottle (which is another product I use and recommend and will mention later).
Who I Think Should Use It: Anyone who is consistently performing at least somewhat intense exercise and wants to maximize their post workout nutrition. And, anyone lacking a sufficient protein intake who for one reason or another would rather drink a shake than eat a food that's high in protein. Speaking of which, now is probably a good time to mention that while getting some of your daily protein intake from a supplement is perfectly fine, the majority of it should still come from actual foods (chicken, turkey, fish, lean meat, eggs, etc.).
A Note That Is Too Small To Read
Right below the protein powder, sort of leaning on it, is a note that says "aCalorieCounter.com" and another sentence that is most likely too small for most people to read. It says "Yup, I really do use the stuff I recommend."
Well, either that or I just borrowed all of this stuff from someone so I could take a picture and claim it's mine. But, I'd never do such a thing.
Or would I? MuHaHaHa.
Alright, seriously, I know a picture of stuff on my floor doesn't completely prove anything, but I am willing to pinky swear that it's all mine and I really do use every single thing I claim to use (and recommend), and I've been using most of it for quite a while. Now, if you'll excuse me, I have to go find my receipt so I can return this stuff to the store that was kind enough to let me rent it all for 20 minutes.
Creatine
To the right of the protein powder, in the black and green container… that's creatine.
Specific Brand: Optimum Nutrition Micronized Creatine Powder
What Does It Do: The shortest, simplest explanation of what creatine does is, it increases the amount of energy your muscles have, which makes it beneficial to those doing intense weight training on a regular basis. The difference definitely isn't huge or amazing, but it can still be quite useful. I explain pretty much everything else you need to know about creatine in The Ultimate Guide To Building Muscle. (I mention all of the creatine stuff towards the bottom of "Requirement #4″)
Why This Specific Brand: Five reasons. First, it's made with Creapure, which is the creatine monohydrate powder widely regarded as the highest quality stuff around. Second, it's micronized, which means it will mix a bit easier. Third, I like Optimum Nutrition as a brand. Fourth, it's super cheap. The bottle shown in the picture contains 2000 grams, and it cost me $37.95 at the link above. At 5 grams a day (the most often recommended amount), this one bottle works out to be over a 1 year supply for under 40 bucks. Fifth, black and green are pretty colors. Alright, so I guess I only had 4 reasons.
Who I Think Should Use It: Not everyone. Instead, creatine is really only for those with the primary goal of building muscle. Meaning, if you aren't eating correctly and training seriously with the intent to build muscle (and doing both very consistently), then you definitely don't need creatine. And even if you are, it's definitely not a requirement. You'll build muscle just fine without it. I'm even going to go extra nuts and recommend that you do both of these things consistently for 6 months to a year before bothering with creatine. So many people join a gym on Monday and start taking creatine on Tuesday. They don't even know what it is or what it does. They just know they need it, which is both stupid and funny at the same time.
Dextrose
To the right of the creatine, in the yellow/orange/white bag… that's dextrose.
Specific Brand: NOW Dextrose
What Does It Do: It does amazing things. In fact, it will change your life! Okay, now for the serious explanation… it does nothing. Dextrose is just a type of sugar commonly used in many candy type products and most sports drinks. While it's really not even a supplement (again, it's just corn sugar), the reason I'm including it here and in the picture is because I use it as my post workout carb source. Remember when I mentioned that whey was the "fast" protein, which makes it ideal for the meal right after your workout? Well, dextrose is the ideal/most often recommended "fast" carb. Therefore, whey protein powder + dextrose + water = the ideal post workout meal. You wouldn't want to "use" dextrose any time other than this post workout meal, by the way. It's sugar, remember?
Why This Specific Brand: Because it's the only brand of dextrose I can ever find. I know, not much of a reason, but it's the truth. I've heard some people say they can find it in their local supermarket, but I never can. So, the only place I can ever find it is online, and NOW seems to be the online leader in dextrose sales. NOW also happens to be a quality brand that I've known of for quite a while, so there's another reason for ya. Happy? Oh, and it's also quite cheap. A 2lb bag is like $4 and change.
Who I Think Should Use It: Anyone who is consistently performing at least somewhat intense exercise and wants to maximize their post workout nutrition.
Pull Up/Dip Belt
To the right of the dextrose, that weird looking black belt with the chain attached to it… that's a pull up/dip belt.
Specific Brand: Grizzly Leather Pull Up/Dip Belt (It's currently sold out on Amazon, which is where I got it. You might be able to find it somewhere else, though. Otherwise, any similar belt will be just fine.)
What Does It Do: It allows you to add weight to pull ups/chins ups and dips. When you get strong enough on a certain barbell or dumbbell or even machine exercise, you progress by increasing the weight you are lifting. Add 5lbs to the bar, go to the next heaviest set of dumbbells, or put the little pin in the next heaviest plate on the machine. Simple, right? But, what if you are doing an exercise where there is no barbell, or dumbbell, or machine? Specifically, how do you progress at pull ups and dips? Sure, at first you just try to do more of them. If you did 7 pull ups this time, try to do 8 the next time. But, at some point you need to increase the load being lifted rather than the number of times it is being lifted for. Enter this belt. It works like this… you put it on with the black leather part on your lower back/hip area like a normal weightlifting belt, and then, rather then being able to close it in the front, there is a somewhat long chain attached to one side with a little clip on the end of it. You take this chain and loop it through the hole in the middle of a weight (the same weight you'd put on a barbell), and then clip the end of the chain to the other side of the belt. You will have now added weight to yourself, thus allowing you to progress at body weight exercises like pull ups/chin ups and dips.
Why This Specific Brand: When I researched these belts to buy one for my own use, this was one of the ones I saw a lot of people using/recommending. I researched it a little more and found out that they make both a leather and nylon version of these belts. I'm sure both are fine, but I decided to go with the leather because it seemed like it would be a bit more durable. Grizzly is also a quality brand that I've actually heard of, so, I went with it. I've been using this belt for a couple of years with absolutely no problems. I'm currently doing sets of pull ups with about 50lbs of weight on the belt, and it's holding up just fine. As mentioned above, this belt is currently unavailable where I bought it (Amazon), so you can either look for it somewhere else, or just get some other similar belt.
Who I Think Should Use It: Anyone looking to build muscle, increase strength, or just improve their overall fitness level and athletic ability. I'm really a huge fan of this belt, and I think it's hilarious when people reach a point where they can do X number of pull ups or dips and then they just ride that number of reps out from that point on with zero progression. And then they wonder why they aren't getting stronger or gaining any more muscle. Duh, because you stopped progressing. As for when to start adding weight to your pull ups/chin ups or dips, I'd say when you can do 3-4 sets of 8 or more reps with just your body weight. At that point… add some weight. Start with just 5lbs and gradually go from there. I'll also mention that if you enjoy having people stare at you while you work out, this belt is pretty good for that. Nothing I do in the gym gets as many stares as when I do pull ups with 50lbs hanging off of me. (I'm not bragging or anything, I'm just making an observation.)
Supplements And Products NOT In The Picture
As I mentioned back at the beginning, there are a few other things that I use and recommend that are not in the picture. Here now are those things.
Multivitamin
A multivitamin is similar in use to fish oil, as they are both for pretty much everyone regardless of anything like their goal or body type. The reason it's not in the picture with the rest of the stuff is because I have no specific brand recommendation. Whenever I mention a multivitamin on this site, I usually say something along the lines of "whatever is on sale is probably just fine, especially if it's a quality brand." I still stand by that.
Shaker Bottle
A shaker bottle is ideal for anyone planning on drinking any kind of shake or mixing any form of liquid. If you don't know what it is, it's basically just a big plastic cup with a little plastic "mixing" piece inside. You throw in whatever you're adding to the shake (like protein powder, for example), add a liquid (water, for example), and then shake it for a few seconds. And, just like that, everything in the cup is perfectly mixed. I put all of the contents of my post workout shake in the bottle and leave it in my locker at the gym or in my car. Then, I just add water after my workout, shake, and drink. I use the bottle for all non-post workout shakes as well. It's extremely simple and convenient, and only costs a couple of dollars at most. It's not included above with the other stuff because I have no specific brand recommendation. I think I'm currently using one from GNC, which would make it one of the last things I ever bought from a GNC. Their prices are horrible.
Body Weight Scale
Do I really need to explain what a body weight scale is? Okay… you stand on it, and it tells you how much you weigh. Amazing, right? Anyway, this is actually something I would have included in the picture, but I didn't even think of it. I mean, I'm walking around my house trying to gather anything diet/fitness related… who'd think to check the bathroom? Anyway, I'm a big fan of digital scales that have at least 0.5lb increments. My scale is from the brand Tanita, which is one of the bigger scale brands. I've had my current one for about 4 years with no problems. I'd definitely recommend a scale from this brand.
Tape Measure
The purpose: to measure your body (waist, arms, etc.) for tracking progress. Again, no specific brand recommendations.
iPod Shuffle (2nd generation)
Alright, now I'm pushing it. But, I have to mention this thing because it's so perfect for gym/workout use. If you've never seen it, this is the iPod that's literally the size of a matchbook. It's down to just $49 as of today (it was $69 when I bought it the month it came out). Anyway, if you like music when you work out (weight training, cardio, whatever), this is as close to perfect as it gets.
The End
And there you have it, all of the supplements and products that I honestly use and recommend, complete with links to the places that I honestly bought/buy them from. Aside from the aforementioned fish oil article, from this point on, I think the mentions of any of this stuff or any other supplements/products again are going to be pretty rare. There's just nothing left to say. So, if you read a Calorie Counter for it's super terrific information about stuff you can buy… you're out of luck. On the bright side, there is certainly no shortage of diet/fitness sites that would love to sell you something.
Take that, birds!